TMdrive-MVG2 – 3 to 11 kV, up to 19,500 kVA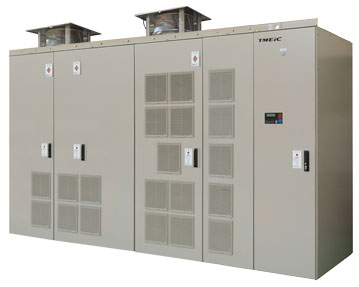 TMdrive-MVG2 – 3 to 11 kV, up to 19,500 kVA
The TMdrive-MVG2 is a medium voltage, ac fed drive designed for high-efficiency and power-friendly operation in a broad range of industrial applications.


High reliability, low harmonic distortion, and high power factor operation are designed into the drive.

Specifications
The TMdrive-MVG2 is available with four voltage classes:

3.3 kV Voltage Class: 3,000 - 3,300 V ac
6.6 kV Voltage Class: 6,000 - 6,600 V ac
10 kV Voltage Class: 10,000 V ac
11 kV Voltage Class: 11,000 V ac


Applications
The TMdrive-MVG2 is designed for a wide range of industrial applications, including: Centrifugal pumps, fans, and compressors, screw compressors, blowers, refiners, mixers, extruders, conveyors, press machines, slurry pipelines, and mills.
TMdrive-MVG2 Features and Benefits
Design Feature
Customer Benefit

Conservative design using 1700 V IGBTs

Highly reliable operation, expected 12-year drive MTBF

High energy efficiency approximately 97%

Considerable energy savings

Diode rectifier ensures power factor greater than 95% in the speed control range

Capacitors not required for power factor correction

Multi-pulse converter rectifier and phase shifted transformer:

3.3 kV Class: 18 pulse
6.6 kV Class: 36 pulse
10 kV Class: 48 pulse
11 kV Class: 54 pulse

No harmonic filter required to provide lower harmonic distortion levels than IEEE-519-1992 guidelines

Multiple level drive output waveform to the motor (seven levels for the 6.6 kV inverter)

No derating of motor for voltage insulation or heating is required due to motor friendly waveform

Synchronous transfer to line option with no interruption to motor current

Allows control of multiple motors with one drive
No motor current or torque transients when the motor transitions to the AC line

Input isolation transformer included in drive package

Better motor protection
Less total space required
Simplifies design and installation

Direct drive voltage output level

No output transformer required, saving cost, mounting space, and energy